Archive for February, 2022
Some reflections on the readings at Mass on the Seventh Sunday in Ordinary Time (Year C), 1 Samuel 26:2, 7–9, 12–13, 22–23; Psalm 103:1–4, 8, 10, 12–13; 1 Corinthians 15:45–49; St Luke 6:27–38. Read them here.
Our in-built identity crisis
Each one of us has an in-built identity crisis. It is a constant thing. It's impossible to get rid of it. And we will have it with us until the day we die. In today's Epistle, St Paul explains what it is. In the first part of the First Epistle to the Corinthians, St Paul is writing about the resurrrection of the body, since some of the Christians in Corinth were saying that there was no such thing. St Paul says that we will be resurrected on the Last Day. The reason, he says, is because as Christians, we have received Christ's own spirit into our souls.
At our baptism, God planted the seed of eternal life in the very depths of our souls. Ever since then, He has been nourishing it with His Grace. Through every reception of Holy Communion, every Confession, and through all the other Sacraments, as well as in many other ways, He has been feeding and encouraging the inside of our souls, this supernatural life. This supernatural life, the inner tendency to be more and more like Chirst, is transforming us from the inside out, like leaven does in a mass of dough.
The tendencies of our fallen nature are still at work in us, at the same time that God's Grace is at work. The catechism calles these tendencies "concupiscence." We still have the first Adam—our fallen nature—even though we have also received the second Adam—our Christian nature. We have the earthly tendencies of self-indulgence and self-centredness, but we also have heavenly tendencies of self-giving, self-sacrifice, and heroism. This is why we so oftewn want to do the right thing, but doing the wrong thing seems so much easier.
Our lives, therefore, are a constant battle, a struggle to resist the old, fallen-nature self and encourage the new, redeemed, Christian self.
St Maximilian Kolbe's famous phrase
This is our permanent identity crisis. Waging this constant battle is the adventure of following Christ.
St Maximilian Kolbe had a clear understand of this battle. He was the Franciscan priest who was martyred in Auschwitz during World War II. One of the other prisoners had been condemned to execution, but St Maximilian offered to go in his place, since the condemned man had a wife and family.
Before the War, St Maximilian had founded a community of almost 700 religious brothers in Poland. They formed what was called the "Knights of the Immaculate." They created a state-of-the-art media complex that included a printing press, radio station, college, and an airfield. Their most popular publication was a magazine that had more than a million subscribers worldwide.
St Maximilian suffered from chronic tuberculosis, which slowed him down but never stopped him. He used to tell the members of his community that when he died and went to heaven, he would be able to help them more than he was able to here on earth. Why? Because in heaven he would be able to use both hands to help them; here on earth, he could only use one hand. He had to use the other to keep himself from falling.
That's what our lives are like. We are always beset with temptations, difficulties, and problems. We are always on the verge of betraying our Lord through selfish, evil thoughts, words, and deeds. Within us, we bear God's Grace, but it is mixed together with our fallen nature: the old Adam and the new Adam are fighting it out within our hearts.
Defusing frustration
This truth can help us overcome one of the great enemies of happiness: frustration. A certain amount of stress and frustration in life is natural. It will always be there. But when it becomes the dominant tone of our lives, it actually interferes with God's action in our soul.
Frustration is a function of expectations. It comes about when our expectations are out of sync with reality. When we expect to be able to do a thousand things in one day, but in reality we can only do a hundred, we become frustrated. When we expect other people to be perfectly capable of doing exactly what we want them to do, and then in reality they fall short, we get frustrated. When we take on one hundred commitments expecting to have enough time to fulfil them all, but in reality we only have time to fulfil fifty, we get stresed out.
Unless we remember that each one of us has a built-in identity crisis, that we are only on our way to perfection, but we are not there yet, our expectations will always be out of sync with reality.
If we do remember this lesson, if we remember that the seed of grace is growing inside this very imperfect garden of nature, we have a much better chance of keeping our expectations in proper perspective.
The Christian thing is to be idealisitic and realistic at the same time. This makes us wise, like the saints. It makes us energetic, but at peace.
Today, and throughout this week, let us thank Christ for teaching us this lesson. Let us ask him to help it to sink in. When we receive Him in Holy Communion, let us renew our confidence in Him, let us recommit to following Him energetically, but always with the interior peace He wants to give us.
All haemodialysis machines have tubes that take blood away from the body of the patient and tubes that return the blood after it has been cleaned. For ease of identification, many machines clearly mark these as red (from the body (or arterial)) and blue (return to the body (or venous)). It's a simple way to ensure that everything is set up correctly.
As a self-care patient, I have the responsibility of setting up my own dialysis machine when I arrive, and then connecting myself to the machine. Up until yesterday, this had gone relatively smoothly without error. However, at the end of dialysis when I went to replace the blue connector onto its holder on the machine, I found that it was in a different place. Yep. I had mixed up red with blue and blue with red.
This mistake, may help to explain why, today, I am feeling so tired. Of course, there may be other reasons like the very busy weekend where I accompanied our Venture Scouts to Wicklow Historic Gaol.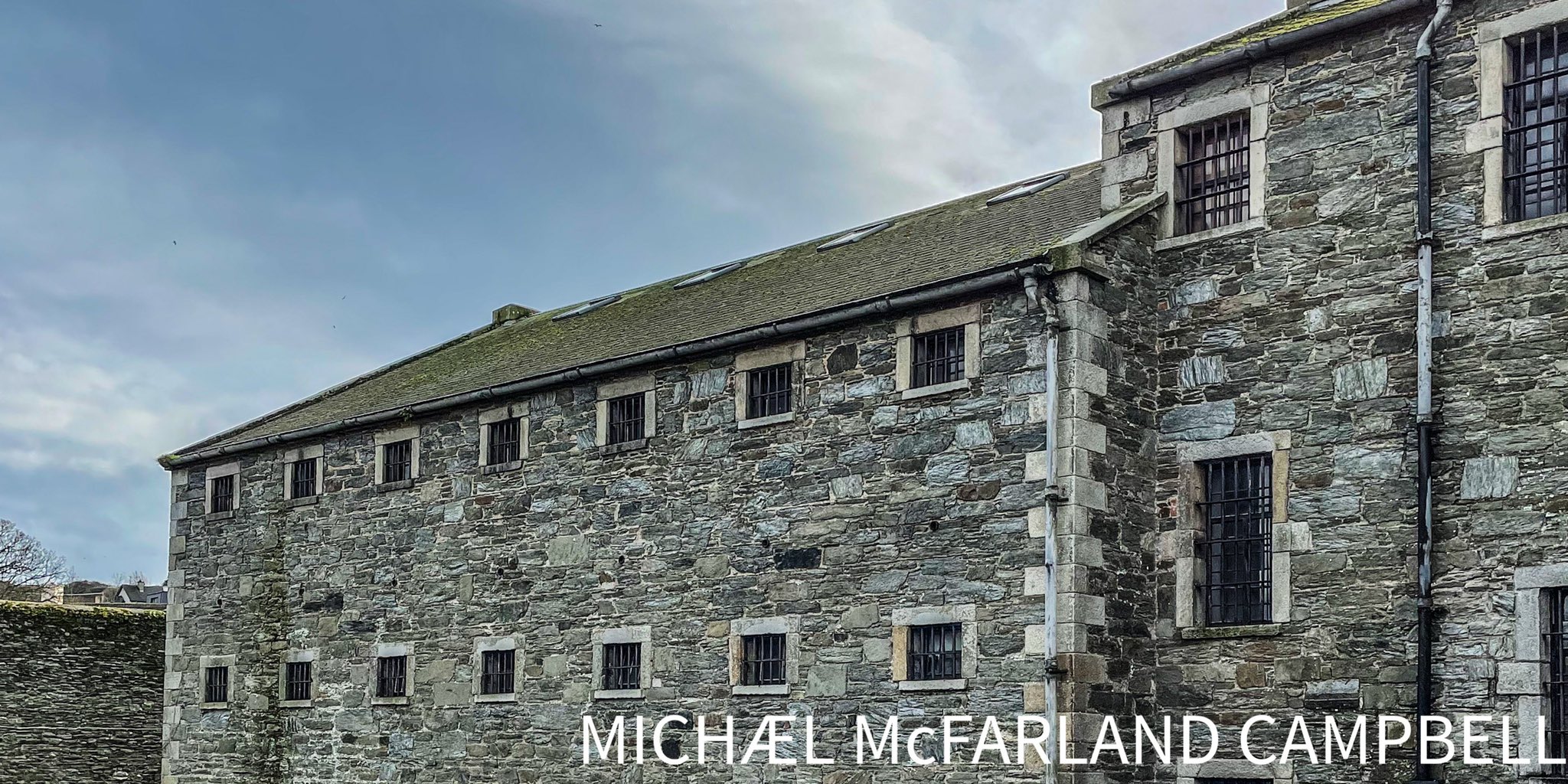 Whatever the reason, I am about to head out with Andrew to Port Laoise to make sure he can find where to get his booster Covid-19 vaccine. It will be about a couple of weeks until I will be able to get my booster, having had a third dose back in October.
Reflection on the readings for the Sixth Sunday in Ordinary Time (Year C): Jeremiah 17:5–8; Psalm 1:1-4,6; 1 Corinthians 15:12, 16–20; St Luke 6:17, 20–26
The Resurrection makes all the difference
St Paul has almost had it with the Christians in Corinth. He spent the first fourteen chapters of this epistle addressing their weak Church discipline and lax morals. Now, as he draws his epistle to a close, he takes up the much deeper question of doctrine.
Why? Quite simply, the Corinthians were flirting with some new interpretations of the Resurrection of Christ. St Paul had to stop them, because, as he puts it,
if Christ has not been raised… we are the most unfortunate of all people.
The Resurrection is the foundation of our faith. It is what separates our Lord Jesus Christ from every other world figure. It gives unique weight to His teachings. Many great historical figures have led exexmplary lives. Many great historical figures have taught wise doctrines, and many great historical figures have even died for the truth. But only one great historical figures has ever risen again. Among the vast array of the greatest heroes of history, of Christ alone can it be said,
he rose again on the third day, in fulfilment of the scriptures.
Why, exactly, is this claim so crucial?
First of all, in the Resurrection of Christ, goodness and power finally unite. No one was as good as Christ, but what good would that goodness have done if Evil had won the day in the end?
Secondly, in the Resurrection of Christ, love proves that it is stronger than death. In Christ and in His Resurrection, a new — a wildly new — hope dawns for all of mankind. This hope that if we stay united to HIm through the Love that springs from faith and grace, will see us rise with Him; will see us rise with Him from our graves, and see us live with Him in the vast and eternal adventure of heaven.
Not one other person offers such a victory and such a hope, because not one other person has risen from the dead to be able to offer it. Not one person but the Lord.
A reason for sacrifice
Without a vibrantm real faith in the Resurrection, we are unable to follow Christ in the way that we ought, as we don't have any reason to make the necessary sacrifices.
In the sixteenth century, St Thomas More was condemned to death for refusing to support the claim of Henry VIII of England to be head of the Church. While in prison, awaiting his execution, King Henry sent Thomas's wife to him to try to convince him to change his mind.
She begged him to obey the king so that his life might be spared. St Thomas answered,
And how long, my dear wife, do you think I shall live if I do what you ask me?
She answered,
For at least twenty years.
He answered
Well, if you had said twenty thousand years, that would have been something; but it would, indeed, be a very poor thing to live even that number of years, and run the risk of losing my God in eternity.
Every single one of us faces temptaions in life. Every week, every day, every hour, we are invited to compromise with out selfish tendencies. How can we stay faithful? How can we do the right thing? How can we be true to our friendship with Christ?
His Resurrection, His Victory over sin and death, can give us victory in our daily struggles, just as it gave St Thomas More victory in his. This is why it has been revealed to us.
Today, and each day this week, let us stir up our faith in the Resurrection. Let us polish it up, so that its light can inspire us and others to be better followers of Christ this week. As we say the Creed this week, let us really mean it when we say,
I look forward to the resurrection of the dead
and the life of the world to come. Amen.
A reflection on the Gospel for the Fifth Sunday in Ordinary Time in Year C. Gospel: St Luke 5:1–11.
The Command of Christ has the power to revolutionize our lives
In the Gospel reading for today, we hear about the first day of the rest of the life of the humble Galilean fisherman, Simon Peter, whom today we know as St Peter the Apostle. From that first day, his life became meaningful, purposeful, and fulfilling. On that day there was a revolution in his life. That revolution is the revolution for which we are all thirsting. If we follow the example of St Peter, we can have it, too.
This revolution has two ingredients: firstly, like St Peter we have to be knocked out of our comfort zone; and secondly, we have to step into Christ's comfort zone.
Our Lord Jesus Christ plays his part in the Gospel masterfully. He tells Peter to, "Duc in altum et laxate retia vestra in capturam" ("Put out into the deep and lower your nets for a catch."[1]) Peter was the expert at fishing, not Our Lord. The boat belonged to Peter, we could say that he was the CEO of a fishing company. Peter knew that you don't catch fish in broad daylight, particularly not after a night without any catch at all. But Our Lord looks right at him, inviting him, challenging him; He is pushing Peter out of his comfort zone, into the deep water of the lake, and into the deep spiritual water of faith. That's the first ingredient of the revolution, Jesus knocks Peter out of his comfort zone. Now comes the second ingredient.
---
Peter actually obeys: not because he understands, not because he can figure it out. No, he obeys for only one reason, because it is the Lord who tells him, "Praeceptor…  in verbo autem tuo laxabo rete." ("Master… at your word I will let down the nets."[2]) Peter lets Our Lord push him out of his own comfort zone; he takes the risk of stepping into the Lord's comfort zone. Isn't this the formula for the Christian revolution, the revolution that brings meaning to life?
As St John Paul II said to the World Day of Prayer for Vocations in 2005,
'Duc in altum' [Put out into the deep]. The command of Christ is particularly relevant in our time, when there is a widespread mentality which, in the face of difficulties, favours personal non-commitment… Whoever opens his heart to Christ will not only understand the mystery of his own existence, but also that of his own vocation; he will bear the abundant fruit of grace… Trust Christ; listen attentively to His teachings, fix your eyes on His face, persevere in listening to His Word. Allow Him to focus your search and your aspirations, all your ideals and the desires of your heart. [3]
Blondin's high wire act
The story is told of a great circus performer by the name of Blondin who stretched a long steel cable across Niagara Falls. During high winds and without a safety net, he walked, ran, and even danced across the tightrope to the amazement and delight of the large crowd of people who watched. He even took a wheelbarrow full of bricks and pushed it effortlessly across the cable, from one side of the falls to the other. 
Blondin then turned to the crowd and asked, "How many of you believe I could push a man across the wire in the wheelbarrow?"
Everyone held their hands high and cheered. Everyone believed he could do it!
"Then," asked Blondin, "would one of you please volunteer to be that man?"
As quickly as the hands went up, they went back down. Not a single person would volunteer to ride in that wheelbarrow, to trust his life to Blondin.
Many of us read or hear the Gospel because we believe in Jesus Christ. That's why we go to Mass, but how much do we put that faith into practice?
We are often content to have Our Blessed Lord sit in our boat, to hear His teaching, and to feel the comfort of His Presence. But when He asks something of us, when He pushes us out of our comfort zone, we resist. That is why we get stuck in our Christian lives; stuck on this side of holiness, stuck with mediocre happiness, stuck with empty nets.
Our Lord has so much more to give us. He wants to fill our nets, just as he filled Peter's. He just needs us to trust Him a little more, He needs us to climb into his wheelbarrow, He needs us to put out into deep water.[4]
Inviting others to follow Christ more closely
"Duc in altum" – one way that God asks us to do this, is bearing witness to Him, inviting others to believe in Him, to follow Him, and to enter into a friendship with Him. All baptized Christians share in this mission that our Lord Jesus Christ gave to Peter that morning when He said, "noli timere ex hoc iam homines eris capiens" ("Do not be afraid; henceforth you will be catching men.")[5]
If we truly love our neighbours, we will want them to come closer to Christ, to only source of eternal life. Helping people come closer to Christ can make us feel uncomfortable; it pushes us out of our comfort zone. Yet, if loving others is the source of true joy, then bringing others to Christ—the best way of loving them—will be the source of greatest joy. 
I often wonder why so many more people go to Mass at Christmas and at Easter than during the rest of the year. Where do these people go on all the other Sundays and feastdays? There must be at least some faith; if there were not, they would not come when they do. Does their faith disappear for the other 363 days of the year? I suspect that this is not the case at all. Is it that we have not helped them to discover the satisfaction of a dynamic friendship with Christ? Are they just waiting for someone to invite them to follow Jesus more closely.
St Peter was made to feel uncomfortable to row back out into the deep water in broad daylight. But he did it: because our Lord asked him to, and his nets were filled to overflowing.
In the same way, Our Blessed Lord asks us to row out there too, to be fishers of men. It certainly can be an uncomfortable feeling, but it is worth it. But don't take my word for it. Ask Him yourself, when He comes into your boat again when you receive Him in Holy Communion.
---
---
---
---
[1] St Luke 5:4
[2] St Luke 5:5
[3] St John Paul II, Message for the 42nd World Day of Prayer for Vocations, 17 April 2005, Fourth Sunday of Easter. https://www.vatican.va/content/john-paul-ii/en/messages/vocations/documents/hf_jp-ii_mes_20040811_xlii-voc-2005.html [accessed 2022-02-01] 
[4] Adapted from "Hot Illustrations" © 2001 Youth Specialties, Inc. 
[5] St Luke 5:10