Archive for the 'Scouting' Category
All haemodialysis machines have tubes that take blood away from the body of the patient and tubes that return the blood after it has been cleaned. For ease of identification, many machines clearly mark these as red (from the body (or arterial)) and blue (return to the body (or venous)). It's a simple way to ensure that everything is set up correctly.
As a self-care patient, I have the responsibility of setting up my own dialysis machine when I arrive, and then connecting myself to the machine. Up until yesterday, this had gone relatively smoothly without error. However, at the end of dialysis when I went to replace the blue connector onto its holder on the machine, I found that it was in a different place. Yep. I had mixed up red with blue and blue with red.
This mistake, may help to explain why, today, I am feeling so tired. Of course, there may be other reasons like the very busy weekend where I accompanied our Venture Scouts to Wicklow Historic Gaol.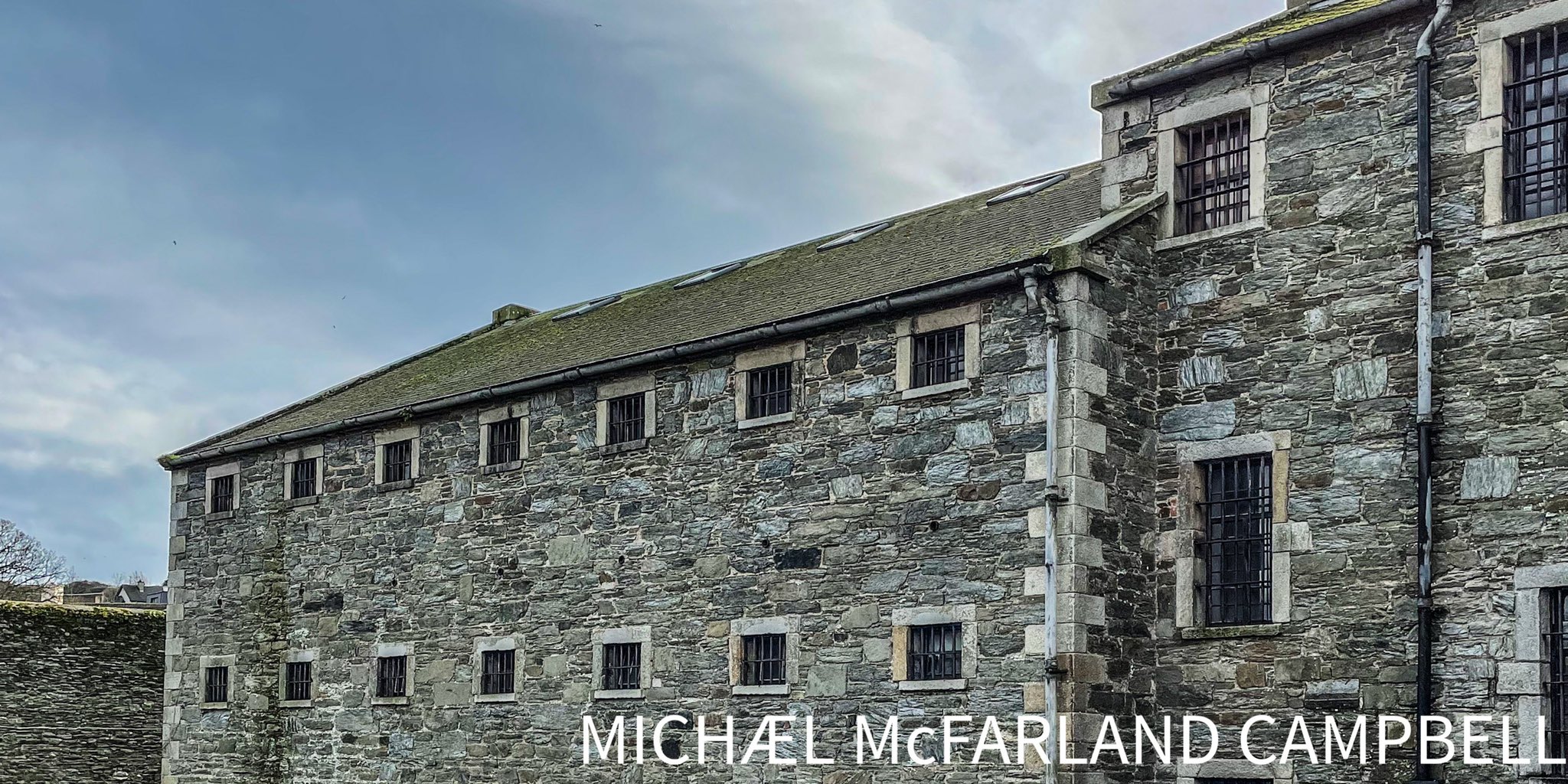 Whatever the reason, I am about to head out with Andrew to Port Laoise to make sure he can find where to get his booster Covid-19 vaccine. It will be about a couple of weeks until I will be able to get my booster, having had a third dose back in October.
Being involved with both Scouting Ireland and St John Ambulance Ireland as a volunteer, and also a member of the Select Vestry of the local parish of the Church of Ireland. In all of these roles it is important for me to be up to date with the latest training about the safeguarding of children and vulnerable people. Therefore, this afternoon, I have completed the "Introduction to Children First" programme from Tusla – the Child and Family Agency. I then completed the online assessment, passed it, and received my certificate. On Tuesday evening coming, I will be completing the Child Protection and Safeguarding training from St John Ambulance Ireland.
Looking after the children in our society is important to me. As I live in the Republic of Ireland, and volunteer with organisations both here and in the United Kingdom, it means I need to be trained in both systems. The principles are, I am glad to say, rather similar.
I highly recommend the course to anyone working in Ireland who may come into contact with children. You can find the course at https://www.tusla.ie/children-first/children-first-e-learning-programme/
Each year at Remembrancetide, I try to find some connection with those who served in the First and Second World Wars to make it mean something more to me. This year, I thought that it would be good to see if there were connections with Dublin where I currently am a Scouter with Scouting Ireland.
With thanks to the Scouts Roll of Honour hosted by The Scout Association in the UK, we are able to find out that there were at least eight Scouts/Scouters from Dublin troops who died in the First World War, and at least 16 in the Second World War.
Their names and troop information are listed below, together with information about their service and when they died where it is known.
First World War
| | | | |
| --- | --- | --- | --- |
| Name | Date of death | Service | Scout connection |
| Captain G.G. Duggan | 17 August 1915 | 5th Battalion Royal Irish Fusiliers | Honorary Secretary Financial Committee Dublin Boy Scouts |
| Able Seaman Robert Valentine | | HMS Vanguard | Late Scout, 7th Co. Dublin (Donnybrook) Troop |
| Private Fred Burrows | 13 November 1916 | Royal Dublin Fusiliers | Late boatman, 1st Port of Dublin Sea Scouts |
| Trooper Philip de Ruyter | 13 December 1917 | South Irish Horse | Late Patrol Leader, 1st Port of Dublin Sea Scouts |
| Bernard Ferries | | Carpenters' Crew, HMS Vanguard | Late Assistant Scoutmaster, 1st Port of Dublin Sea Scouts |
| Seaman Henry Mills | | HMS Indefatigable | Late Boatman, 1st Port of Dublin Sea Scouts |
| Private A.W. Fowler | 4 September 1918 | Hampshire Regiment | Late Scout, 6th County of Dublin (Leeson Park) Troop |
| Corporal Albert E. Narramore | 8 October 1918 | Royal Dublin Fusiliers | Late Scout, 6th South Dublin (Leeson Park), Troop |
Second World War
| | | | |
| --- | --- | --- | --- |
| Name | Date of death | Service | Scouting connection |
| Engineer Francis James Burke | 16 April 1942 | Royal Navy | 28th Dublin Group |
| R. Hall | | Royal Air Force | 8th Dublin (Clontarf) Group |
| Sergeant Observer T.C. Hammond | September 1939 | Royal Air Force | 6th South Dublin (Leeson Park) Group |
| E. Howley | | Army | 8th Dublin (Clontarf) Group |
| Sergeant W.E.B. Jesse DFC | | Royal Air Force | 32nd Dublin Group |
| Ordinary Seaman Edward Kearney | 19 September 1941 | Merchant Navy | 2nd Port of Dublin (Clontarf) Group |
| Chief Officer John Knight | 17 February 1941 | Merchant Navy | 3rd Port of Dublin Sea Scout Group |
| W. Lloyd | | Royal Artillery | 6th South Dublin (Leeson Park) Group |
| Flight Sergeant Edward Walter McGrath | 29 November 1944 | Royal Air Force | 1st Dublin (Lord Holmpatrick's Own) Group |
| Leading Aircraftman Thomas J. Murray | 16 July 1940 | Royal Air Force | 28th Dublin Group |
| Gunner Bernard O'Rafferty | 9 June 1941 | Royal Navy | 3rd Port of Dublin Sea Scouts |
| Sergeant D. Orr | | Royal Air Force | 33rd Dublin (Sandford Church) Group |
| Sergeant D. Rowe | | Royal Air Force | 33rd Dublin (Sandford Church) Group |
| Horace Savage | 24 July 1943 | Army | 8th Dublin (Clontarf) Group |
| Lieutenant C. Small | | Army | 33rd Dublin (Sandford Church) Group |
| Rear Gunner A. Thompson | | Royal Air Force | 13th Dublin (1st Blackrock Avoca School) Group |
Tomorrow morning, when there is a two minutes' silence whilst I am at church, I will be thinking of these Scouts and Scouters who died in the service of their King and Country during both the First and Second World Wars. I will also give thanks for the peace that we enjoy in our day and age. I hope that Dublin Scouts will remember their fallen still.
The text following was shared with me last night in order for it to be widely circulated amongst the membership of Scouting Ireland who are very concerned and worried about its lack of direction and development in line with its ethos and fundamentals.  Please feel free to circulate it as widely as possible.  Many thanks, keep safe and well but most of all keep the faith in OUR Scouting Ireland.
---
The Board of Directors of Scouting Ireland CLG                                
Scouting Ireland National Office                                                       
Larch Hill                                                                                            
Tibradden                                                                                           
Co. Dublin 16
31st August 2020
Re: Former Chief Scouts Concerns
Dear Board Members,
We wish to thank Adrian, Peter and Anne for meeting with us on 27th of August on your behalf and for listening to our concerns.  It was a frank exchange and we believe we made our concerns very clear, however, we feel that it is important that we reiterate those concerns in writing so that there can be no doubt regarding our fears for the future of our Movement.
Learning Review & Cronyism
As we explained we feel that the Learning Review carried out by Mr Ian Elliott was large on supposition and assumption and short on factual data to enable readers to fully comprehend the scale of the atrocities visited on youth members of Scouting over a long number of years.
As we said we are not seeking the naming of specific people but Mr Elliott says "In my view, credible allegations have been made against many national officers of the legacy scouting organisations".  In our view it would help if we knew how many very senior officers and other volunteers at National Level were engaged in abuse and cover up.  This is important so that we can better understand how this situation came about and to ensure that the possibility of it recurring is minimised.
We also found the comments made by Mr Elliott regarding actions undertaken during the discussions on and the formation of Scouting Ireland difficult to understand.  At no point in time did he discuss with or ask questions of the Chairman of the Committee established to discuss the formation of a new association nor with the First Chief Scout of Scouting Ireland.  It is hard to understand how he arrived at his conclusions in the absence of such discussions.
Whilst we do accept that cronyism existed in our Movements and still does today there is no factual evidence presented in the Learning Review to support the contention that "In some respects, it was made even more acute by the creation of Scouting Ireland".  We need more clarification regarding this particularly given that Adrian expressed the view that cronyism is still prevalent in Scouting Ireland.
Authority of the Board
Before discussing the Lorna Lynch report it is worth remembering that at the EGM on 6th October 2018 the NMC stated "the current board will resign tonight and the newly elected board will take up office then. Following legal advice, the outgoing Board recommend that M4 and M5 are withdrawn from the Agenda today in order for the incoming Board to take legal advice surrounding the issues involved.  At present Scouting Ireland is an Association and a Company; should the National Council vote in favour of M1 and M2 today – Scouting Ireland will become a Company only and the new Board will oversee the winding down of the Association." 
It would seem that the transfer of power significantly changed at a later date and it would be good to understand why.
Lorna Lynch Report
We do not accept or understand the stance adopted by you the Board in not dealing with this matter appropriately and bringing this debacle to a conclusion.  It must be recognised that it is unfair to the Chief Scout, to the other respondents and to the members of Scouting Ireland who placed their trust in you.  You said that you are not in a position to discuss the matter with us because of legal advice but did not specify from whom this advice was received nor whether you the Board challenged this advice or just accepted it.
As we said in the Zoom discussion we were really perplexed as to why the situation regarding the Chief Scout has still not been resolved and unfortunately the reason posited by Adrian did not enlighten us very much.  As it happens the situation regarding the two Chief Commissioners is somewhat different given that their terms of office finished in April 2020 whereas the Chief Scouts term is due to finish in April 2021 hence our concern regarding the treatment of the Chief Scout.
The recent NMC update clearly demonstrates that there will be no progress to resolve this issue any time soon.  It may well be that what the NMC is attempting to do with regard to the winding down of the Association is complex, but surely deciding on the fate of the four respondents is not complex given that the final appeals process has been completed since May.
It is patently obvious that the NMC is either not capable of dealing with the issues expeditiously or is purposely dragging the process out for unknown reasons. 
The inordinate delay in finalising the matter flies in the face of the most recent disciplinary process established by you, as the Board of Scouting Ireland CLG, and, even more importantly, it is completely out of line with the ethos of Scouting and any normal measure of due process.  It is unfair that the process has been dragged out for such a long time with no end in sight at present.
Unfortunately, the huge amount of good work done by the Board will be for naught unless this issue is dealt with decisively and sooner rather than later. It has the potential to result in a sizeable minority, if not majority, of the members being very dissatisfied with the Board.
You the Board need to recognise that you do not have as much support as you may believe and this is largely attributable to the Board not grasping this nettle and dealing with it quickly, decisively and fairly.
Lorna Lynch found that "Mr. McCann did not act appropriately in relation to the Complaint in failing to disclose at the Board meeting on 11 February 2017 the fact and/or details of his meeting with the subject of the Complaint on 14 January 2017".  She further found that "There are no other findings apart from those set out above that Mr. McCann did not act appropriately in relation to the Complaint. There are no findings that Mr. McCann inappropriately contacted the staff involved in managing the Complaint seeking to exert influence in favour of [the subject of the Complaint]."
The Chief Scout has now been out of his role for almost 29 months which, in our view, should be punishment enough for not acting appropriately as found by Ms Lynch and it is not understandable why it is taking such a long time for the matter to be concluded.
The NMC accepted the recommendations of a subcommittee they appointed to consider what sanction should be applied to the respondents including the Chief Scout.  We believe that this resulted in the Chief Scout and the two Chief Commissioners being suspended from their roles until such time as there is a general meeting of National Council.  We do not know what the NMC intend to propose to National Council but that is the body that must approve the removal from office of a Chief Scout or Chief Commissioner.  To date there has been no indication of when or if an EGM of National Council will be convened.
In the recent update the NMC says "We cannot make any further comment at this time in respect of this matter".  This is completely unacceptable, and it is incumbent on the Board and the NMC to issue a proper statement on the matter without delay.  We mentioned during our discussion that we feel the NMC is prolonging the issue until such time as the term of office of the Chief Scout finishes so that the whole issue will just go away.  The recent NMC update strengthens our suspicion.
In Conclusion
We believe that the You the Board need to:
Develop and finalise the specific learnings to be taken from the Learning Review as a matter of urgency;
We believe that the evidence underpinning the suppositions and assumptions made by Mr Elliott should be shared with the members to demonstrate why they were validly made;
Exert your authority and take full control of the matters that the NMC have dismally failed to deal with, i.e. winding down of the Association and finalising the outcomes from the Lorna Lynch Review;
In the true spirit of Scouting afford the Chief Scout an opportunity to finish his term in office.
It is our belief that if you were to do so you would have the support of the vast majority of the members of Scouting Ireland and it would open up a pathway to the future with much more grass root support.
Yours in Scouting
Ken Ramsey, Donald Harvey and Martin Burbridge
I am proud to be a member of Scouting. I grew up in The Scout Association in the UK and am currently still a member there as well as being a Scouter in Scouting Ireland. Both Associations help young people and adults to learn skills for life.
I had hoped to blog whilst at Gilwell Reunion, but that was just not meant to be. Finding the time to sit and reflect was just not really part of my time last weekend.
As with all larger scout camps there were times when I simply wanted to be on my own. Other times, it was standing talking to friends old and new.
On Sunday morning some Scouters gathered at the gate next to the White House which is known as Cornwall Gate for a short service of remembrance. The gate is there as a memorial to two Cornish Venture Scouts who died in the summer of 1972 when lightning struck their tent during the Cornwall County camp at Gilwell Park. The gates have been totally refurbished with the help of the Thane Rover Crew, and Cornish Scouters are now looking towards the 50th anniversary.
Remembering past Scouters and Rovers who have passed on the torch of Scouting is very important to me. Without them, the many millions of scouts across the world would not have had the adventure they have had, the adventure they are currently having, nor the adventure we are still to have.
I look forward to the next year of Scouting with my own venture scouts, and we will see what adventures we can have.
Originally posted on HIV Blogger.